VISEU DE SUS-2001
Pro Viseu 2001
"for building modern community!"
Geografical information :
---
Localisation: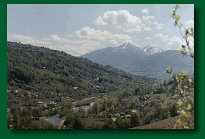 in the North-Est part of
Maramures
, in a mountain region known as Depresiunea Maramuresului, on the Viseu Valley at it's confluence with the Vaser river.
This is the way to get to Viseu: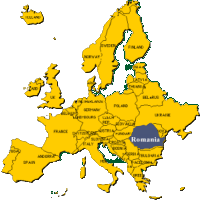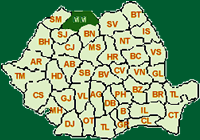 If you come from Western Europe, well then, you can take the plane to Budapest or even to Cluj, or to Bucharest and then to Baia Mare.

If you travel by car from Cluj or Brasov, once you ve got to Salva, you follow one and the same road. Through Salauta, crossing Dealu Stefanitei you get to Sacel, then you turn to right till you get to Moisei, then you turn to left and here you are.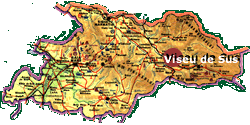 If you come from Baia Mare or Satu Mare, first you have to get to Sighet either through the Gutâi or Huta pass.
Once in Sighet, you follow the road to the Vioeu Valley and in about an hour, you re in Vioeu. Should you come from Moldavia, take the Câmpulung Moldovenesc road, cross the Prislop pass, but, in winter you could find this road burried in snow, so mind your car !

Geography: 44.306 ha -aria from wich are:
agriculture aria7.108 ha (16 %)

woods: 36.166 ha (81,7 %)

other arias 1.032 ha (2,3 %)
Access to the higher stones:
links withs Moldova (pasul Prislop)
links with Transilvania (pasul Setref)
links with Baia Mare - via Sighet
Local Administration:
top
---
Population's characteristics
the demographical profit: population: 18.700, the 4 th town in the county

over 55 - 21 % (this information are from 1992)

gender : 49,9 % females, 50,1 % males

population:they are decreasing from 1990 (3,7 % per year)

the migration: in Germany (not long after 90)
Religious Comunities - number and ritual 7

orthodox, romano-catholic, greco-catholic, reformat, penticostal, adventist, orthodox-old style

schools and highschools:10 schools - anual graduates - 250; highschool about 800 students

profesional schools: there are vocational schools ( IX-X grades ) specialisations:mecanics and constructions, light industry, wood industry

number of graduates: 128 in 1999

special education - The Orphanage for elementary school children and The Special school for disabled children- about 170 students
Newspapers:there are local co-workers for Opinia (sub redactation) (www.opinia.ro), Graiul Maramuresului (www.graiul.ro) with sub redactation perspectives

TV and radio: cable television - it doesn't present any local emission

Local coverage level: the television has almost 1500 subscribers
Parks and playing grounds:

city park, the sport stage - at the moment in construction

the park nearby Unic and the Casa de cultura

The sport ground at the Kindergarden no. 1, at schools no. 1, 2, 3, 7.(with hanball, voleyball and basketball grounds - insufficiently equipped )

Organised programs: film, shows

Youth clubs: students' and youth club, art club 2000

Internet navigation - in Viseu and Vaser rivers in the spring

Cultural and entartaining facilities

civil and profesional organisations:
The culture and tourism promotion association Hiperboreea
Folk dance ensemble of Casa de cultura
Anual chess challenge

libraries: the city library and 9 school libraries
entertaining facilities:

The House of Culture, the art room, the stadium - unused now, bathing in the Viseu river (during summer)
Vaser Valley as a touristic zone
Valea Vin Valley as an entertainment place + the mineral water from here
trips around the city

unfortunately all of the riverbanks are polluted with the resides of sawdust from the lumberjacks

Touristic and historical objectives:

The Vaser Valley with it's thin railway, steam train (mocanita)
The Vine Valley with mineral water
The Jewish cemitery
The Catholic Church 1912
The Orthodox Church
The Greek-Catholic wooden Church
German ethnics region Zipserai
Trade Centre